About Us
"My wish is to create many more smiles and colourful moments for as long as my designs live"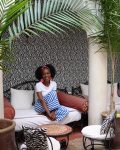 The Story Behind Nevice
Hello,
My name is Naima. I am the fashion designer and the creator of the brand Nevice.
I was born and raised in Tanzania, East Africa. Growing up in Tanzania, I must admit the beautiful nature, warm and colourful lifestyle … and not to forget the calming sound of the Indian ocean, had put my creativity into motion.
I fell in love with fashion at a tender age and I knew that's where my passion belonged.
I put my imagination into drawings and paper scraps, and worked hand in hand with a seamstress to make myself a dress for a school party or a family event which by then was the only platform to showcase my art.
I spent most of my time learning sewing, illustration and other necessary techniques until I bought my first sewing machine and my dream was evolving to reality. I started making special clothes for myself, friends and family. My creations quickly spread through words of mouth and this was overwhelming.
I opened my first atelier in March 2014 in Dar es salaam and the brand Nevice was brought into life. I started my fashion brand with minimal resources but armed with a lot of passion and a creative mind.
Seeing people happy when wearing my designs has been my greatest achievement. I believe fashion is not just the garments we create, but the impact this craft has on the people in the creation and the ones who are wearing them.
My wish is to create many more smiles and colourful moments for as long as my designs live.
My designs are inspired by nature, cultural experiences and lifestyles of different societies. These are my secret ingredients of versatility. I collect moments and stories when I travel and in my day to day interactions with people. These moments and stories are what I transform into garments.
I am a strong advocate of sustainable fashion. I believe in the future and I want to be part of its creation. As I present my work to the world it is important to me that the ecological and ethical values are abided. Fashion is more meaningful and desirable when the people consuming it are happy and the environment around us is well protected.
Our History
Nevice was founded 2014 in Dar es Salaam, Tanzania and reborn in Paris, France in 2021