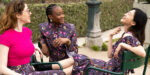 Furaha /furaha/ – Swahili for Joy, Fun, Happiness
This collection is inspired by the series of happiness and joyful moments in our daily life. Even when times are tough and there is so much going on, we choose the positive side of it. We have chosen to be happy and share it with our loved ones.
Furaha is a Swahili word for happiness, joy and fun. We have collected plenty of joyful moments and we would like to share them with you through this sustainable collection.
This collection is made of GOTS certified organic cotton which is naturally grown without using pesticides, saving water and ensures better working conditions for farmers. We have also used EcoVero viscose to offer a variety of fabric texture. This material is made of sustainable woods from controlled sources FSC (Forest Stewardship council). And last but not least we have beautiful scarves made of Tencel, also called Lyocell. This is an ecological material produced from wood pulp and a non-toxic solvent. Tencel is very popular in the textile industry, as it is a breathable and resistant fabric, very comparable to silk in texture.
We appreciate the great work of our pattern illustrators who had put our ideas into beautiful patterns, our certified fabric suppliers from India and Spain who make our sustainable journey possible and finally the production team in our atelier- Paris, France.
We hope and believe you love every single piece of Furaha collection and we are looking forward to your feedback.
With love,
Team Nevice