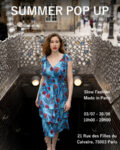 𝗦𝗮𝘃𝗲 𝘁𝗵𝗲 𝗱𝗮𝘁𝗲!
We are thrilled to announce the grand opening of our revolutionary Sustainable Pop-Up Store, located in the Marais of Paris!
Join us and other sustainable brands as we embark on a journey towards a greener future.
📅 𝟬𝟯. 𝗝𝘂𝗹𝘆 – 𝟯𝟬. 𝗔𝘂𝗴𝘂𝘀𝘁 𝟮𝟬𝟮𝟯
⏰ 𝟭𝟬𝗵𝟬𝟬 – 𝟮𝟬𝗵𝟬𝟬
📍 𝟮𝟭 𝗥𝘂𝗲 𝗱𝗲𝘀 𝗙𝗶𝗹𝗹𝗲𝘀 𝗱𝘂 𝗖𝗮𝗹𝘃𝗮𝗶𝗿𝗲, 𝟳𝟱𝟬𝟬𝟯 𝗣𝗮𝗿𝗶𝘀.